Procurement Services team assist in major equipping role to ensure new Grange Hospital opens before schedule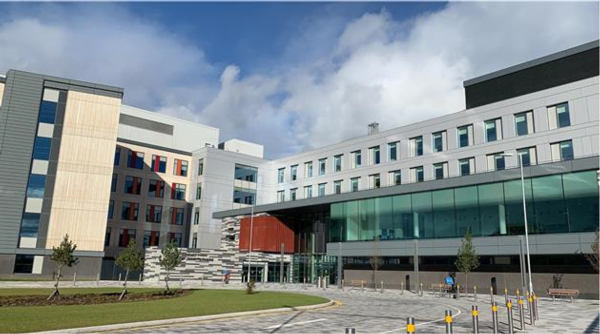 Working with Aneurin Bevan University Health Board (ABUHB) and other stakeholders, the Procurement Services Capital Equipping Category Team carried out a major equipping role for new Grange University Hospital (GUH) that in turn enabled the Hospital to open almost 5 months before the originally planned date.
Working alongside the Clinical Futures Project team and in parallel with the main contractor, Laing O'Rouke, the team helped to deliver a world class specialist critical care centre- which is even more notable when taking into consideration Coronavirus and the constraints imposed due to the pandemic.
The construction of the new hospital which is based in Cwmbran, South East Wales, was based on a specially commissioned Clinical Futures Strategy undertaken by the Health Board. The NWSSP Capital Equipping Category Team were responsible for the equipment purchases, exacting supplier delivery schedules, managing department equipment transfers and commissioning duties, and were able to fully meet the demands of this project both within the reduced timeframe and to budget.
Overall, the team have been responsible for managing:
An equipment budget circa £26 million
An additional Welsh Government Budget of £6 million
An equipment transfer budget circa £15 million
Over 9000 lines of equipment and 60,000 individual items.
Reflecting on the crucial role undertaken by the Procurement Team, Sam Pennington, Deputy Head of Sourcing/Capital said: "This has all been possible due to clear channels of communication, participation at strategic and operational meetings, and as valued members entrusted with their expertise and commitment to deliver this project."
"In conjunction with Health Board Clinical teams, the Capital Equipping Category Team facilitated complex specifications, liaised on equipment transfer programmes, and captured whole life cycle costs. All with the added impact of the COVID-19 pandemic pressures of social distancing and worldwide fragile supply chains."
"Instilled within a culture of partnership, this team have shown efficient decision making, resilience, dedication, overcome extreme pressures, and are proud to be a part of this "once in a lifetime" opportunity. Their commitment and professionalism truly showcases what can be achieved when working in partnership with multidisciplinary and cross-functional teams."
Lucie Cornish, Project Clinician said; "The NWSSP Procurement team have been fundamental to the successful opening of the Grange University Hospital. They have been called upon to respond to not just one but two requests to expedite large volumes of equipment procurement to support the ABUHB COVID-19 response. The first response being in April over an intense, unprecedented 5 week period with significant supply chain issues and the second response leading up to the opening of all departments within GUH 4 months early and including highly technical equipment procurement.
"This has been a gargantuan task and one to which the whole team have responded with impressive commitment. They have procured over 9000 lines of equipment to enable GUH to open early and have worked closely with health board clinical teams, the Clinical Futures team, suppliers and many others with professionalism and effectiveness. Feedback from across ABUHB has been positive throughout and without a doubt the hospital could not have opened safely without their hard work."
Nicola Prygodizicz – Aneurin Bevan University Health Board Executive Board member said; "A massive thank you to the amazing team effort in getting us to where we are today with the GUH early opening. You have been a fantastic procurement team and have been completely embedded in the wider team from the beginning, working collaboratively and very responsive to the needs of the project and services. We definitely wouldn't have done it without your hard work and your personal commitment. Thank you again for being such an exceptional team!"